Your current location:
Home
> Mall News >
Hot Solution
>
Automotive Electro-Static & Surge Design and Test
Automotive Electro-Static & Surge Design and Test
2018-08-15
Iczoom
178
Author: Shanghai Lei Mao Electronic Technology Co., LTD
China's requirements on automobile EMC's are becoming increasingly standard and strict. Major automobile manufacturers and testing agencies have been getting more and more understanding about car products. Now automobile electronic products are emerging one after another and the functions are easy to realize, but EMC problems often plague our R&D engineers.
Lei Mao analyzed the EMC test items and key points of design demanded by typical on-board electronic products one by one; hopefully, it will help R&D engineers a little.
Now many on-board products use smart bus terminals: intelligent information collection terminals with advanced Internet of Things and mobile internet technology. The following is a list of a manufacturer's vehicle-mounted information board card related to the communication interface.
Communication Interface

RS232

four routes

RS485

two routes

LAN Interface

one route, 100Mbps

CAN

2 routes (one route is used to transmit touch signals)

USB Interface

one route, USB 2.0 OTG

Megaphone

1 route (installed in PAD)

Hard Disk Interface SATA-II

1 route

DI

8 routes

AI

2 routes

TI

1 route(CAN)

HD Video Input

4 routes

HDMI Output

1 route

VGA Output

2 routes (one route is used for PAD screen)

Audio Output

2 routs, each route ≥10W

Relay Output

2 routes

Power Interface

Operating Voltage

· 8~40V DC, it has functions of low-voltage protection, overvoltage protection, reverse polarity protection

Electromagnetic Compatibility

Power

GB/T 21437.2-2008 Road vehicles - electrical disturbance caused by conduction and coupling - Part 2:Electrical transient conduction along the power line IDT. ISO7637-2:04; Level 3 requirements;

EMC

Static Electricity

ISO10605:2008 Road vehicles. Electrostatic discharge-generated electricity harassment test method
Question 1: With so many communication interfaces in the table above, which ones need to go throughstatic discharge testing?
Answer: The whole machine first needs to go through the electrostatic discharge test. Any metal or non-metal interface that is accessible to the outside world needs to be tested for static electricity. Insulated electrical interfaces should go through an air discharge test instead of a direct contact test. The voltage level of general air discharge should be higher than that of contact discharge.
Question 2: What is the electrostatic test level of vehicle electronic products?
Answer: At present, the test level of the product is the contact discharge of ±15kV and air discharge of ±25kV.
Question3:Which interfaces need to test ISO7637-2?
Answer: Various requirements of ISO7637-2 include many waveforms such as P1A, P1B, P2, P3A, P3B, P4, P5A, and P5B. These are all to test the anti-disturbance degree of on-board products' power ports against external power interference, so only the power ports need to be tested.
1. CAN / RS232/ RS485Connection Protection Plan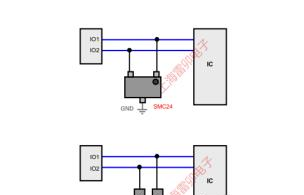 Two plans are provided by CAN, as shown in the picture above. The integrated solution of SMC24 SOT-23 is adopted to protect cable CAN-H and cable CAN-L. Under the agreement of RS232, it can be replaced by SMC12 SOT-23 or SD12C SOD-323. Alternatively, it can be designed as an integrated solution of SM712 SOT-23 under the agreement of RS485.
2:USB/RJ45/SATA -- Protection Plan of High

-

Speed Signal Port

Due to the high volume of customer product shipments, we recommend the single-path device protection scheme which can be implemented at low cost. The ultra-low capacitance ESD device is used to protect the high-speed signal port. The devices that can be selected here include PESD0542U005, PESD0563U005, etc. They are all the devices encapsulated with 0.05pF parasitic capacitance of 0402 and 0603. (?)
3:HDMI/ VGA--Protection Plan of Audio and Video Connection Port

The ULC0524P, ULC0544P10, and ULC0514P10 encapsulated with DFN2510 are adopted to meet the electrostatic protection requirements of HDMI1.4 HDMI2.0, as well as the standards for the eye diagram test.
4:

Static and

P

arabolic

L

oad

P

rotection

T

est of

P

ower

S

upply

I

nterface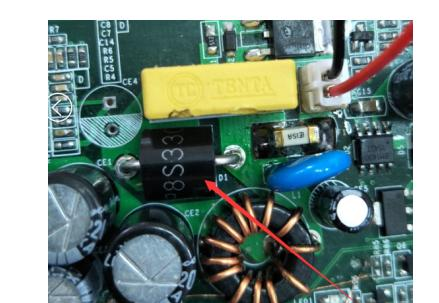 Chart One. TVS Test Results of 12V System
Project

ISO 7637 Test Pulse 5A

12V system

UA/B

13.5V

US (V)

87

87

87

87

80 (JASO standard)

87

RI

4

2

2

2

0.8

0.5

TD (ms)

100

50

150

400

200

400

Pulses

10

10

10

10

10

10

Leiditech Auto

TVS Solution

SMDJ24A

SMDJ22A

5.0SMDJ22A

5.0SMDJ20A

6.6SMDJ22A
6.6SMDJ20A

P8S22CA

SM8S22A

P8S22CA

P8S24CA
Chart Two. TVS Test Results of 24V System
Project

ISO 7637 Test Pulse 5A

24V system

UA/B

27V

US (V)

123

123

174

174

174

174

RI

4

2

4

2

1

1

TD (ms)

350

350

350

350

100

200

Pulses

10

10

10

10

10

10

Leiditech Auto

TVS Solution

5KP36CA

P5S36CA

P6S36CA
SM8S36A

P8S36CA

P8S33CA

P10S36CA

P10S36CA

P12S33CA

P12S36CA
5. How

to Set the Testing Machine
There are various types of 7637 test instruments, but it is very important to pay attention to the test results. Capture the waveform by setting the oscilloscope to the corresponding voltage and current.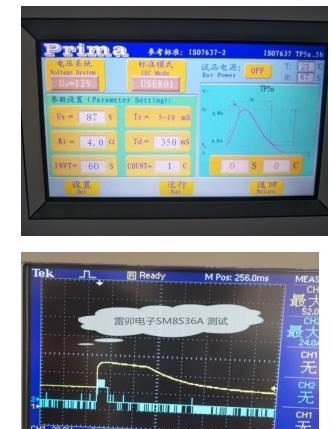 【Disclaimer】
1.The content, data, charts, etc. of this article come from network reference or other public materials, and the copyright belongs to the original author and the original published source. If the copyright owner has any objection to the quotation of this article, please contact ICZOOM "marketing(at)iczoom.com" and we will deal with it in a timely manner.
2.The quotes in this article are for readers' learning exchange only, and do not involve commercial purposes.
3.The content of this paper only represents the author's point of view. ICZOOM cannot gurarante and assure the accuracy, reliability or integrity of the content. The decision or behavior made by readers after reading this article is based on their own will and independent judgment. Please clarify the relevant results before reading this article.
4.Please contact ICZOOM "marketing(at)iczoom.com" with the reason of reproducing if you want to reproduce the articles that ICZOOM owns the copyright. Without permission to reproduce, ICZOOM will reserve the right to pursue the legal liability.
5. If there is any inconsistency between the English and Chinese versions, the Chinese version shall prevail.
ICZOOM has the final right to interpret this statement.
Previous: Current First Article
Next: The Last Page
keywords:Automotive ElectroStatic,Automotive Surge Design
Purchasing Guide
Guideline
Return Instruction
Invoice
Disclaimer
Distribution
Distribution
Transportation Instruction
Tracking
Payment
E-bank
Bank Transfer
Alipay
Services
Loyalty Points
News Receive
E-cyclopaedia
Wechat
Customer Service Hotline:400-693-8369 (9:00-18:00)
Address:Rm. 102, Technology Bldg., International e-Commerce Industrial Park, 105 Meihua Rd., Futian, Shenzhen
Tel:+86 755 86036281 Fax:+86 755 88600876