Your current location:
Home
> Mall News >
Website News
>
Curtain Falls on High-Tech Private Placement Road Show:ICZOOM Gains Attention
Curtain Falls on High-Tech Private Placement Road Show:ICZOOM Gains Attention
2018-11-21
Iczoom
183
  The China Hi-Tech Fair's (CHTF) Private Placement Road Show was held at the Shenzhen Convention and Exhibition Center on November 17th, 2018.
  This road show was sponsored by CHTF, the Shenzhen Chamber of Investment, and the Department of Commerce of Heilongjiang Province. 10 enterprise leaders presented their cases at the road show. In the audience there were many representatives from more than 80 investment organizations including Oriental Fortune Capital, Kunyi Hengxin Venture Capital, and Shenzhen Yasen Investment Management. Mr. Xia Lei, the CEO of ICZOOM, gave a 15-minute speech, introducing ICZOOM's business model. He highlighted ICZOOM's advantage of "zero price difference" and its leading place in the supply chain. ICZOOM needs to raise money in order to support its rapid business growth. Mr. Xia's speech received a warm response. A number of investment organizations raised questions on site and showed their interests in further cooperation.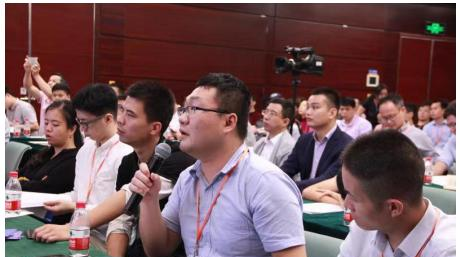 About China Hi-Tech Fair's Private Placement Road Show:CHTF is China's largest and most influential exhibition in the technical area. It is known as "China's NO.1 technical exhibition". The Shenzhen Chamber of Investment is a leading 5A commerce chamber that focuses on finance services. It has built a stable and long-term relationship with national and international financial organizations over the past ten years.
【Disclaimer】
1.The content, data, charts, etc. of this article come from network reference or other public materials, and the copyright belongs to the original author and the original published source. If the copyright owner has any objection to the quotation of this article, please contact ICZOOM "marketing(at)iczoom.com" and we will deal with it in a timely manner.
2.The quotes in this article are for readers' learning exchange only, and do not involve commercial purposes.
3.The content of this paper only represents the author's point of view. ICZOOM cannot gurarante and assure the accuracy, reliability or integrity of the content. The decision or behavior made by readers after reading this article is based on their own will and independent judgment. Please clarify the relevant results before reading this article.
4.Please contact ICZOOM "marketing(at)iczoom.com" with the reason of reproducing if you want to reproduce the articles that ICZOOM owns the copyright. Without permission to reproduce, ICZOOM will reserve the right to pursue the legal liability.
5. If there is any inconsistency between the English and Chinese versions, the Chinese version shall prevail.
ICZOOM has the final right to interpret this statement.
keywords: High-Tech,ICZOOM
Purchasing Guide
Guideline
Return Instruction
Invoice
Disclaimer
Distribution
Distribution
Transportation Instruction
Tracking
Payment
E-bank
Bank Transfer
Alipay
Services
Loyalty Points
News Receive
E-cyclopaedia
Wechat
Customer Service Hotline:400-693-8369 (9:00-18:00)
Address:Rm. 102, Technology Bldg., International e-Commerce Industrial Park, 105 Meihua Rd., Futian, Shenzhen
Tel:+86 755 86036281 Fax:+86 755 88600876