Your current location:
Home
> Mall News >
Website News
>
7 of the Top 10 Smartphone Suppliers Headquartered in China
7 of the Top 10 Smartphone Suppliers Headquartered in China
2017-06-16
Iczoom
257
June 15, 2017, from ICINSIGHTS.com
China accounted for 10 of top 14 leading smartphone suppliers in 2016, share grows to 39%.
IC Insights recently released its Update to its 2017 IC Market Drivers Report. The Update includes IC Insights' latest outlooks on the smartphone, automotive, PC/tablet and Internet of Things markets.
The Update shows a final 2016 ranking of the top smartphone leaders in terms of unit shipments. As shown in Figure 1, 7 of the top 10, and 10 of the top 14 companies were headquartered in China with two South Korean (Samsung and LG) and one U.S. (Apple) and one Taiwanese company (Asus) making up the remainder of the companies listed. It is interesting to note that OPPO and Vivo, the two fastest growing smartphone suppliers on the list last year with each company growing almost 90%, are owned by the same China-based parent company—BBK Electronics.
Samsung and Apple dominated the smartphone market from 2014 through 2016. In total, these two companies shipped 555 million smartphones and held a combined 39% share of the total smartphone market in 2015. Although these two companies still shipped over one-half billion smartphones (526 million) in 2016, their combined smartphone unit market share dropped four percentage points to 35%.
Samsung's total smartphone unit sales were down by 4% in 2016 to 311 million units, a weak showing in a total smartphone market that grew by 4%. With orders sagging for Apple's pre-iPhone 7 smartphones (the iPhone 7 was first released on September 7, 2016), Apple's total smartphone shipments dropped by 7% in 2016, much worse than the total 4% growth rate exhibited for the worldwide smartphone market. Although Samsung and Apple still hold a strong share of the high-end smartphone segment (>$200), it appears that both companies are losing smartphone market share to the up-and-coming Chinese producers like Huawei, OPPO, and Vivo.
Overall, there was very little "middle ground" with regard to smartphone shipment growth rates among the top 14 suppliers in 2016. As shown, seven of the top 14 companies registered declines in 2016 shipments while five companies logged 25% or better increases. In fact, four Chinese smartphone suppliers' shipments surged by greater than 30% (Vivo, OPPO, Gionee, and Huawei) in 2016. LeEco, which only began shipping its smartphone handsets in 2015, became Coolpad's largest shareholder in October 2016. As a result, IC Insights combined the two companies' smartphone sales for 2015 and 2016.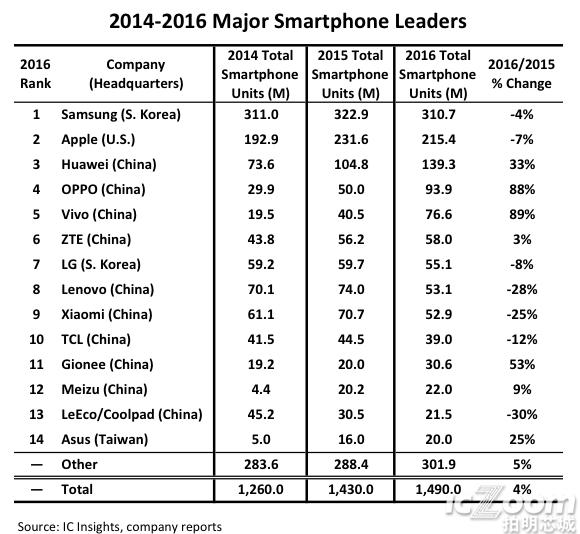 Figure 1
In 2014, Japan-based Sony was ranked 10th in smartphone shipments with sales of 40.0 million handsets. However, in 2016, Sony's shipments of smartphones had dropped precipitously to only 15.1 million (with sales expected to increase only slightly in 2017 to about 16 million). In contrast to the weakening fortunes of Sony, 2015-2016 smartphone sales from most of the top China-based suppliers surged. In fact, Huawei, the third largest smartphone producer in 2016, has set its sights on surpassing Apple within the next five years.
Combined, the 10 top-14 smartphone suppliers that are based in China shipped 587 million smartphones in 2016, a 15% increase from the 511 million smartphones these 10 companies shipped in 2015. As a result, the top 10 Chinese smartphone suppliers together held a 39% share of the worldwide smartphone market in 2016, up three points from the 36% share these companies held in 2015 and seven points better than the 32% combined share these companies held in 2014.
【Disclaimer】
1.The content, data, charts, etc. of this article come from network reference or other public materials, and the copyright belongs to the original author and the original published source. If the copyright owner has any objection to the quotation of this article, please contact ICZOOM "marketing(at)iczoom.com" and we will deal with it in a timely manner.
2.The quotes in this article are for readers' learning exchange only, and do not involve commercial purposes.
3.The content of this paper only represents the author's point of view. ICZOOM cannot gurarante and assure the accuracy, reliability or integrity of the content. The decision or behavior made by readers after reading this article is based on their own will and independent judgment. Please clarify the relevant results before reading this article.
4.Please contact ICZOOM "marketing(at)iczoom.com" with the reason of reproducing if you want to reproduce the articles that ICZOOM owns the copyright. Without permission to reproduce, ICZOOM will reserve the right to pursue the legal liability.
5. If there is any inconsistency between the English and Chinese versions, the Chinese version shall prevail.
ICZOOM has the final right to interpret this statement.
keywords:Smartphone Suppliers , Smartphone
Purchasing Guide
Guideline
Return Instruction
Invoice
Disclaimer
Distribution
Distribution
Transportation Instruction
Tracking
Payment
E-bank
Bank Transfer
Alipay
Services
Loyalty Points
News Receive
E-cyclopaedia
Wechat
Customer Service Hotline:400-693-8369 (9:00-18:00)
Address:Rm. 102, Technology Bldg., International e-Commerce Industrial Park, 105 Meihua Rd., Futian, Shenzhen
Tel:+86 755 86036281 Fax:+86 755 88600876