Your current location:
Home
> Mall News >
Website News
>
Cogobuy hit by short-seller report
Cogobuy hit by short-seller report
2017-05-23
Iczoom
337
The share price of Cogobuy Group (0400) plunged by 22 percent yesterday and trading in its shares was suspended after short-seller Blazing Research accused the e-commerce service provider of engaging in "a scam" for 10 years.
The Singapore-based short seller alleged in a report that Cogobuy "fabricated its revenue and net profit since listing in Hong Kong" and its online platform and "the 'largest intelligent hardware innovation business platform,' known as IngDan, is a complete scam."
Cogobuy's share price fell by as much as 27 percent before closing at HK$7.80 yesterday. Turnover was HK$244 million.
The short-seller, composed of a team of retired financial professionals according to its website, said Cogobuy.com has been down for a week without any maintenance and that online intelligence providers showed that Cogobuy.com has minimal amount of traffic compared to its peers.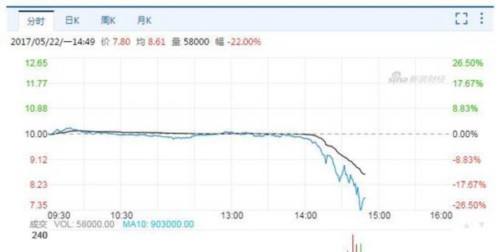 It added that there was significant deviation between Cogobuy's revenue figures in its filings to the State Administration for Industry and Commerce and figures that it reports in its annual reports.
Cogobuy chairman Jeffrey Kang Jingwei said Blazing Research has no evidence to support its allegations, adding that Cogobuy immediately reported the case to the police.
Kang also said that Cogobuy will continue buying back its shares.
From The Standard
Dominique Nguy May 23, 2017
【Disclaimer】
1.The content, data, charts, etc. of this article come from network reference or other public materials, and the copyright belongs to the original author and the original published source. If the copyright owner has any objection to the quotation of this article, please contact ICZOOM "marketing(at)iczoom.com" and we will deal with it in a timely manner.
2.The quotes in this article are for readers' learning exchange only, and do not involve commercial purposes.
3.The content of this paper only represents the author's point of view. ICZOOM cannot gurarante and assure the accuracy, reliability or integrity of the content. The decision or behavior made by readers after reading this article is based on their own will and independent judgment. Please clarify the relevant results before reading this article.
4.Please contact ICZOOM "marketing(at)iczoom.com" with the reason of reproducing if you want to reproduce the articles that ICZOOM owns the copyright. Without permission to reproduce, ICZOOM will reserve the right to pursue the legal liability.
5. If there is any inconsistency between the English and Chinese versions, the Chinese version shall prevail.
ICZOOM has the final right to interpret this statement.
keywords:Cogobuy
Purchasing Guide
Guideline
Return Instruction
Invoice
Disclaimer
Distribution
Distribution
Transportation Instruction
Tracking
Payment
E-bank
Bank Transfer
Alipay
Services
Loyalty Points
News Receive
E-cyclopaedia
Wechat
Customer Service Hotline:400-693-8369 (9:00-18:00)
Address:Rm. 102, Technology Bldg., International e-Commerce Industrial Park, 105 Meihua Rd., Futian, Shenzhen
Tel:+86 755 86036281 Fax:+86 755 88600876