Your current location:
Home
> Mall News >
Website News
>
Samsung Poised to Become World's Largest Semi Supplier in 2Q17
Samsung Poised to Become World's Largest Semi Supplier in 2Q17
2017-05-12
Iczoom
194
Samsung Poised to Become World's Largest Semi Supplier in 2Q17
Intel could yield the #1 position it has held since 1993.
After nearly a quarter of a century, the semiconductor industry could see a new #1 supplier in 2Q17. If memory market prices continue to hold or increase through 2Q17 and the balance of this year, Samsung could charge into the top spot and displace Intel, which has held the #1 ranking since 1993. Using the mid range sales guidance set by Intel for 2Q17, and a modest, yet typical, 2Q sales increase of 7.5% for Samsung, the South Korean supplier would unseat Intel as the world's leading semiconductor supplier in 2Q17 (Figure 1). If achieved, this would mark a milestone achievement not only for Samsung, specifically, but for all other competing semiconductor producers who have tried for years to supplant Intel as the world's largest supplier. In 1Q16, Intel's sales were 40% greater than Samsung's, but in just over a year's time, that lead may be erased and Intel may find itself trailing in quarterly sales.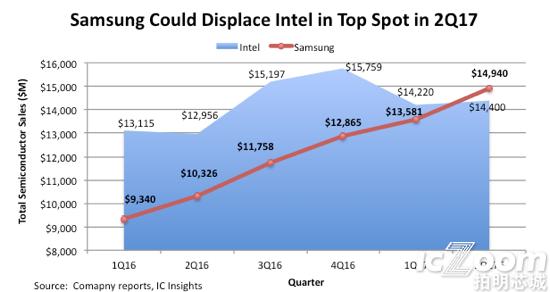 Figure 1
Samsung's big increase in sales has been driven by an amazing rise in DRAM and NAND flash average selling prices (Figure 2). IC Insights expects that the tremendous gains in DRAM and NAND flash pricing experienced through 2016 and into the first quarter of 2017 will begin to cool in the second half of the year, but there remains solid upside potential to IC Insights' current forecast of 39% growth for the 2017 DRAM market and 25% growth in the NAND flash market.

Figure 2
As shown in Figure 3, Intel has been locked in as the world's top semiconductor manufacturer since 1993 when it introduced its x486 processor and soon thereafter, its revolutionary Pentium processor, which sent sales of personal computers soaring to new heights.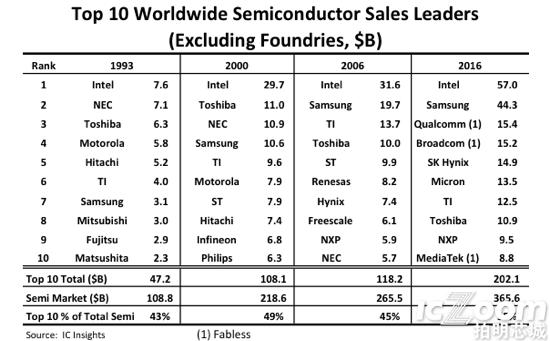 Over the past 24 years, some companies have narrowed the sales gap between themselves and Intel, but never have they surpassed the MPU giant. If memory prices don't tank in the second half of this year, it's quite possible that Samsung could displace Intel in full-year semiconductor sales results as well. Presently, both companies are headed for about $60.0 billion in 2017 semiconductor sales.
May 01, 2017 from IC Insights
【Disclaimer】
1.The content, data, charts, etc. of this article come from network reference or other public materials, and the copyright belongs to the original author and the original published source. If the copyright owner has any objection to the quotation of this article, please contact ICZOOM "marketing(at)iczoom.com" and we will deal with it in a timely manner.
2.The quotes in this article are for readers' learning exchange only, and do not involve commercial purposes.
3.The content of this paper only represents the author's point of view. ICZOOM cannot gurarante and assure the accuracy, reliability or integrity of the content. The decision or behavior made by readers after reading this article is based on their own will and independent judgment. Please clarify the relevant results before reading this article.
4.Please contact ICZOOM "marketing(at)iczoom.com" with the reason of reproducing if you want to reproduce the articles that ICZOOM owns the copyright. Without permission to reproduce, ICZOOM will reserve the right to pursue the legal liability.
5. If there is any inconsistency between the English and Chinese versions, the Chinese version shall prevail.
ICZOOM has the final right to interpret this statement.
keywords:IC,Samsung
Purchasing Guide
Guideline
Return Instruction
Invoice
Disclaimer
Distribution
Distribution
Transportation Instruction
Tracking
Payment
E-bank
Bank Transfer
Alipay
Services
Loyalty Points
News Receive
E-cyclopaedia
Wechat
Customer Service Hotline:400-693-8369 (9:00-18:00)
Address:Rm. 102, Technology Bldg., International e-Commerce Industrial Park, 105 Meihua Rd., Futian, Shenzhen
Tel:+86 755 86036281 Fax:+86 755 88600876