Your current location:
Home
> Mall News >
Industry News
>
M Series Wirewound Multi-Turn Potentiometers
M Series Wirewound Multi-Turn Potentiometers
2019-04-12
Iczoom
31
  Nidec Copal's potentiometers are ideal for industrial equipment, communication devices, and measuring instruments
  Image of Nidec Copal Electronics' M Series Wirewound Multi-Turn PotentiometersNidec Copal Electronics' M series wirewound potentiometers utilize precision wire-winding technology to achieve long operation life and low output noise. The devices exhibit excellent independent linearity and are less affected by temperature changes compared to other types of potentiometers. The potentiometers are ideal for human-machine interface (HMI) applications to adjust control settings for industrial equipment, communication devices, and measuring instruments.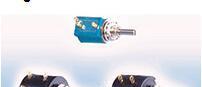 Features
  Available with three, five, or ten turns
  Long rotational life:
  15,000 cycles (M-1303 and M-1305)
  25,000 cycles (M-22S10 and M-22E10)
  Nominal resistance values:
  100 Ω, 200 Ω, and 500 Ω
  1 KΩ, 2 KΩ, 5 KΩ, 10 KΩ, 20 KΩ, and 50 KΩ
  Effective electrical angle and turns:
  1,080° and three turns (M-1303)
  1,800° and five turns (M-1305)
  3,600° and ten turns (M-22S10 and M-22E10)
  Independent linearity:
  ±0.2% (M-22S10 and M-22E10)
  ±0.5% (M-1303 and M-1305)
  Applications
  HMI
  Industrial equipment
  Communication devices
  Measuring instruments
【Disclaimer】
1.The content, data, charts, etc. of this article come from network reference or other public materials, and the copyright belongs to the original author and the original published source. If the copyright owner has any objection to the quotation of this article, please contact ICZOOM "marketing(at)iczoom.com" and we will deal with it in a timely manner.
2.The quotes in this article are for readers' learning exchange only, and do not involve commercial purposes.
3.The content of this paper only represents the author's point of view. ICZOOM cannot gurarante and assure the accuracy, reliability or integrity of the content. The decision or behavior made by readers after reading this article is based on their own will and independent judgment. Please clarify the relevant results before reading this article.
4.Please contact ICZOOM "marketing(at)iczoom.com" with the reason of reproducing if you want to reproduce the articles that ICZOOM owns the copyright. Without permission to reproduce, ICZOOM will reserve the right to pursue the legal liability.
5. If there is any inconsistency between the English and Chinese versions, the Chinese version shall prevail.
ICZOOM has the final right to interpret this statement.
keywords: Multi-Turn Potentiometers
Purchasing Guide
Guideline
Return Instruction
Invoice
Disclaimer
Distribution
Distribution
Transportation Instruction
Tracking
Payment
E-bank
Bank Transfer
Alipay
Services
Loyalty Points
News Receive
E-cyclopaedia
Wechat
Customer Service Hotline:400-693-8369 (9:00-18:00)
Address:Rm. 102, Technology Bldg., International e-Commerce Industrial Park, 105 Meihua Rd., Futian, Shenzhen
Tel:+86 755 86036281 Fax:+86 755 88600876